-A special thanks to Gunship for making such a beautiful ship for me to base my design on.
Neuse-Class Ironclads: After 1871, the Carolinian Republic had developed a naval strategy that hinged on a large battle fleet of ironclad vessels. An initial fleet plan was introduced, based on five primary battleships. The Terror and the Defender formed the primary branch of the fleet, but they were too unstable on the open seas to do much good. Their main design fault was that they mounted heavy turrets, broadside guns, and a full set of sails on a hull that was not up to the task of supporting it. So, in 1871, a design committee was sent to be trained in Britain by specialists at Robert Napier and Sons in Glasgow, Scotland. Also, the Carolinian government, especially Congress, were not about to miss out on an opportunity to support emerging industries, especially shipyards and steel plants. Both the Carolina Shipbuilding Company and the Charleston Navy Yard had sufficiently expanded to handle construction of up to 3 large ironclads of up to 3,500 tons. Alongside the yards, the Raleigh Ordnance Works had developed a 10-inch gun of reputable quality with a modern breech-loading mechanism. The design committee was formed in 1871 to evaluate the very best in ship components and bring them together to create a modern ironclad battleship that could compete with the top-of-the-line ships in both the Union and Confederate fleets. The new class displaced roughly 3,100 tons and was 225 feet long. Beam was set at 20 feet, while draft was up to 17 feet, which caused some problems with certain harbors. The armament took quite a while to determine, but was eventually laid out as 8 x 10-inch RBL guns in broadside, and they carried a secondary battery of 4 x 64-pounder RML guns. Four Hotchkiss 37mm revolving guns were carried for close quarters actions, as were six 1-pounder guns. Not initially carried, but later equipped, were four drop-collars for 14-inch torpedoes. The ships were driven by 14 Oval-shaped high-pressure coal-fired boilers driving two Penn and Co. Direct-Acting trunk-type engines (for the last time in a Carolinian capital ship.) Two were laid down at the Carolina Shipbuilding Company while the other was laid down in Charleston at the Navy Yard in 1872. Completed in November of 1873, they were commissioned into the fleet in December of that year, a Christmas present for the fleet. They served through the 1870's and early 1880's, participating in several peacekeeping actions in Cuba and the Caribbean, including shelling Havana harbor and transporting a force of 60 marines to Haiti to assist in peacekeeping actions there. They were refitted in 1884, receiving a new armament of 8-inch RBL guns and had her 64-pounder RML guns removed. Light armament was increased dramatically, including the addition of 8 x 1-pounders, 6 x 3-pounders, 2 x 37mm Hotchkiss revolvers, and 6 x 7.92mm Machine guns. They served as armored cruisers in this form until decommissioned in 1892, when they were replaced by much more modern ships.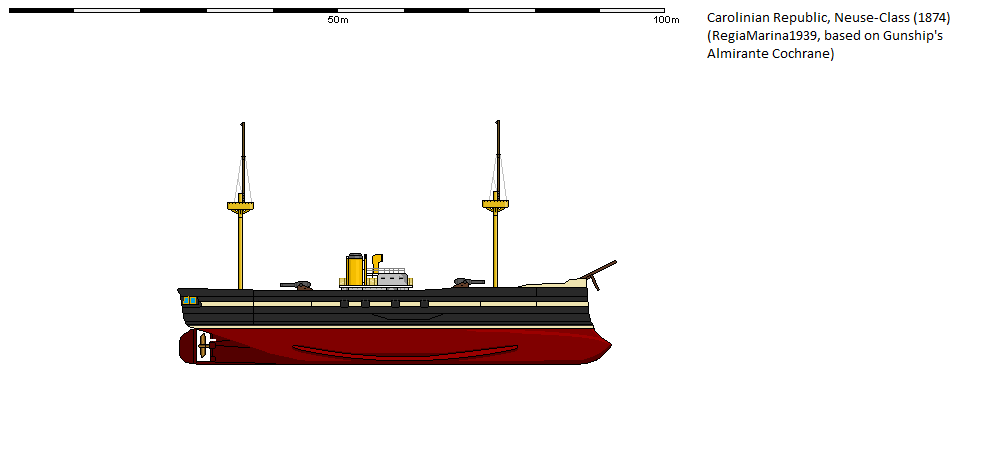 Specifications 1873:
Type: Broadside ironclad
Length: 225 feet
Beam: 20 feet
Draft: 17 feet
Speed: 14 knots
Machinery: 14 Oval-shaped coal-fired high-pressure boilers, 2 x direct-acting trunk-type engines
Armament: 8 x 10-inch RBL guns, 4 x 64-pounder RML Guns, 4 37-mm Hotchkiss revolvers.
Armor: 6-inch belt, 10-inch battery, 1.5-inch deck, 11-inch conning tower.
Specifications 1891:
Type: Armored Cruiser
Length: 225 feet
Beam: 21 feet
Draft: 19 feet
Speed: 17 knots
Machinery: 12 x Circular coal-fired boilers, 2 x Compound-type engines
Armament: 8 x 8-inch RBL QF guns, 2 x 37-mm Hotchkiss revolvers, 6 x 3-pounders, 8 x 1-pounders, 6 x 7.92-mm machine guns, 4 x 14-inch torpedo drop-collars.
Armor: 5-inch belt, 8-inch battery, 1-inch deck, 12-inch conning tower.
NEXT: Army artillery, I might hijack some of Redhorse's excellent drawings for firearms from his AU. Torpedo boats, new generation of ships appearing in the 1875-1885 decade, brief history update.