launchers:
US NAVY launchers
French launchers
British launchers
other nations launchers
notes:
-the Mk 4 AWHS size is just an guestimate based on the size of the mk 26, which is an direct replacement. exact size and shape might differ a bit
-the mk 112 can be fitted with different or without reload systems. I will return to that soon
-the mk 13 GMLS needs an cover around the part of the magazine that sticks through the decks on some of the equipped ships. this is shown on the drawing.
-the mk 41 VLS views cannot be directly copied to an drawing without modification. similar to the mk 13 sideview, there has to be drawn an cover around it. this cover is ship specific, but how it should look on USN vessels as tico's and burkes from the top can be seen on this
CSGN mk 2 WIP
from the side is shown more or less correct on the burkes and tico's that are currently on the main site: this redraw has some size differences with those, but not enough to require fixing right now.[/list]
guns: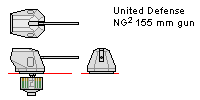 notes:
propulsion systems:
Westinghouse LWNP
General Electric D2G Reactor
LM 2500
Pratt & Whitney FT4
Rolls Royce Marine Spey
Rolls Royce Olympus
Rolls Royce MT30
Rolls Royce RM1A
Catterpillar Marine 8M46DF8
Wärtsilä Auxpac 20 series generators
Wärtsilä Auxpac 26 series generators
Marine Cat 32C series Gensets
Converteam AIM
1947A Steam plant
Y.102 COSAG plant (with metrovick G6 gas turbine) (single and twin shaft)
LCF CODOG plant
notes:
the D2G drawing shows the size of the reactor compartment. this does not include turbines or similar systems, but only the space you need to keep free in your ship to fit this system. information of how it looks is classified, so I had to show it like this.
the M46DF is the 8 cilinder version. research and change the amount of cilinders if you want any other version to use, and want it on your drawing.
Radars
SPS-01