Okay, before I buggered off to Vanuatu for a holiday I was drawing the Martin-Baker MB2 Fighter (real design, one prototype, monoplane with fixed landing gear -a version with retractable landing gear was planned but never built- powered by a 1000hp Napier Dagger) and started wondering what if Martin-Baker decided to play to the aircraft's selling point (simple construction allowing use of semi-skilled labour and non-aviation engineering firms, something of an emergency fighter in other words) but moved onto an engine which wasn't so horribly complex and right at the end of it's development spiral...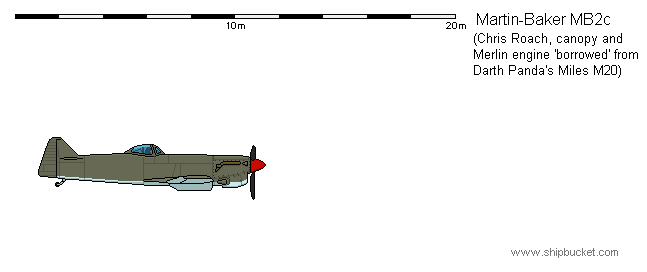 Doubt it'd have the developmental potential of the Spit or Hurricane, but as an emergency design for home use and a simple enough airframe to farm out to be produced in the dominions, well, could be useful.
Edit: Currently too lazy to bung marking on it... besides, I think details of the wings are a bit out of whack, so revision will be needed.