Polskie Linie Lotnicze "Lot" (1999-2013... - Into the 21st Century)
In the early XXI century
LOT
- like the whole airline industry experienced ups and downs, and at the same time undergone significant modernization of it's fleet. In 2004
LOT
's subsidiary
Centralwings
was opened as a low-cost carrier, starting operations in february 2005, with use of some of
LOT
's B737's. Although already by september of the same year the line served 500-thousandth passenger, in the long run low-cost operating model turned out to be not viable economically (especially considering certain general management practices of
LOT
- read below) and every year since 2006 it produced a net loss. In 2008
Centralwings
was restructured, concentrating on charter flights and several select profitable lines, but ultimately it didn't work and in 2009 it was formally declared bankrupt. In it's place a
LOT Charters
was created in the same year (also using
LOT
's B737's).
In 2012
LOT
operated lines to Amsterdam, Athens, Barcelona, Beirut, Belgrade, Berlin, Brussels, Budapest, Bucuresti, Cairo, Chicago, Copenhague, Damascus (at least theoretically), Donetsk, Dusseldorf, Frankfurt am Main, Geneva, Hamburg, Hannover, Helsinki, Istanbul, Kiev, Larnaka, London, Lvov, Lyon, Madrit, Milan, Minsk, Moscov, Munich, Nice, Newark, New York, Odessa, Paris, Prague, Riga, Rome, Sankt Petersburg, Sofia, Stockholm, Tallin, Tbilisi, Tel-Aviv, Toronto, Torino and Zurich.
Eurolot
in 2012 served domestic connections between Warsaw, Beijing, Bydgoszcz, Gdańsk, Katowice, Kraków, Poznań, Rzeszów, Szczecin, Wrocław and Zielona Góra, as well as international lines to Aarhus, Amsterdam, Bremen, Dubrovnik, Firenze, Hamburg, Heringsdorf, Lvov, Poprad, Salzburg, Split, Verona, Vilnius, Zadar and Zurich.
LOT Charters
operated in 2012 semi-regular lines to: Burgas, Varna, Girona, Palma de Mallorca, Chania, Iraklion, Kos, Rhodes, Zakynthos.
Unfortunately, more than eight decades since it's founding, Poland's flag carrier is hardly in good condition and it's future looks bleak. In the late 2012 company suddenly asked the Treasury for 1 billion PLN (around 300 million USD) of help due to extremely difficult financial situation, even though just months earlier company authorities claimed it's "quite good". Independent audit made in early 2013 pointed out to various management blunders being causes of that state of affairs: Treasury (which is
LOT
's majority stakeholder by law) failed to perform any oversight and tolerated lack of any public financial reporting on part of
LOT
for years; ignoring changes that occured in recent year in European airline market (like consolidation of carriers); desperate sell-off of all possible assets that gave some 640 million PLN (around 190 million USD) in the short term, that were spend on repaying current debts, but in the end made
LOT
practically deprived of any sellable assets (and unable to repay further debts). At the same time
LOT
undergone nominal partial privatization, but actually the "privatized" shares were sold by the State Treasury to companies and institutions that were... owned by the same State Treasury. Most importantly, however,
LOT
fell victim to two cornerstones of democratic Poland's politics and state-run sector of economy: so called "rule of TKM" and "rule of BMW". First one stands for
"Teraz, k...a my"
("Now, f..k it's us") and describes what happens on mass scale after every elections (and quite often between them, when someone on high levels get replaced) in every government-run institution and company, (in local government it's sometimes down to level of janitors) - always with slogans of "replacing political appointees with apolitical specialists". Second one is a pun on brand of cars and stands for
"Bierny, Mierny ale Wierny"
("Passive, Mediocre but Loyal") and describes the qualities that public perceives as apparently necessary a job (esp. important and well-paid one) in these institutions - unless You have already a well-placed member of family there, of course. As a result, in the last 10 years
LOT
had total of
eleven
CEO's (no need to add, that all were/are "apolitical specialists").
Note: unfortunately information on exact dates of purchase, selling etc. of the post-1989 fleet of LOT is - quite surprisingly - somewhat sketchy, conflicting and incomplete at certain places (and - frankly - amount of time I was willing to spend on answering certain questions related to it wasn't unlimited), therefore the information below may contain errors or omissions. Sorry.
In the late 1990s
LOT
turned to Brazilian EMBRAER as it's primary source of smaller and medium aircraft. First plane obtained from that source was ERJ-145. Earliest three were delivered in 1999 (SP-LGA, -LBG, -LGC), seven more in 2000 (SP-LGD, -LGE, -LGF, -LGG, -LGH, -LGI, -LGK), next three in 2001 (SP-LGL, -LGM, -LGN) and final, fourteenth one in 2002 (SP-LGO). They were used on domestic and shorter international routes, and although highly succesful, they proved to be somewhat too small for
LOT
's needs. As a result, in 2004 SP-LGA was sold, SP-LGB and LGC in 2005, SP-LGI and -LGK in 2006, SP-LGL, -LGM and -LGN in 2008, SP-LGD, -LGE, -LGF, -LGG and -LGO in 2010 and SP-LGH in 2011.
Many thanks to Guillermo2312 for his EMBRAER ERJ-145.
Poland, EMBRAER ERJ-145
Note: drawing updated April 2017.
Next Brazilian purchase of
LOT
were E-170 jetliners, of which Polish airline was the launch customer. Total of ten were delivered, starting in 2004 (SP-LDA, -LDB, -LDC, -LDD, -LDE, -LDF, -LDG, -LDH, -LDI, -LDK).
Many thanks to Indiajuliet for his EMBRER E-190 and E-195.
Poland, EMBRAER E-170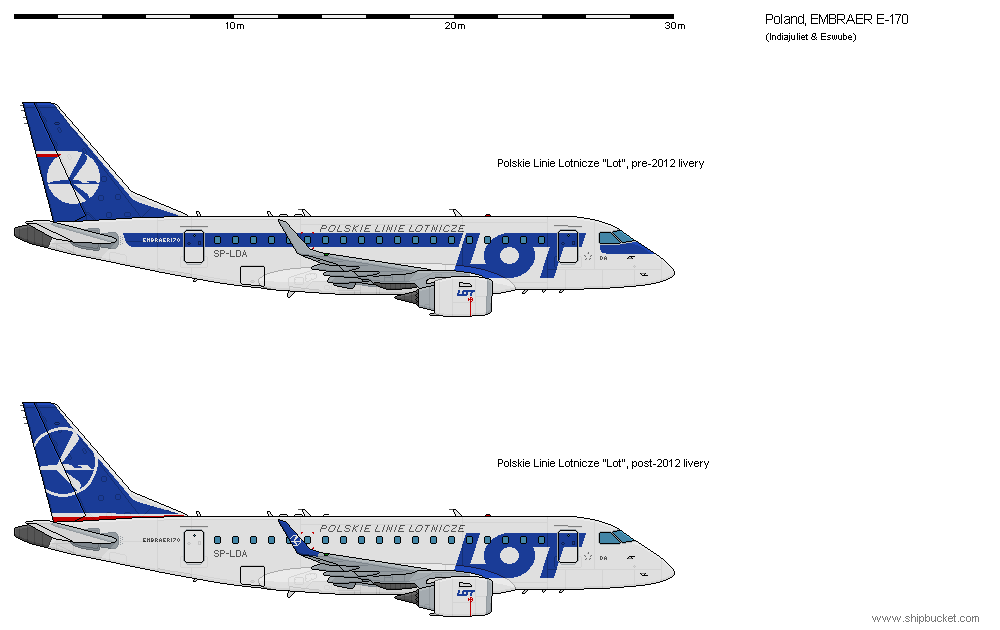 E-170's were followed by their slightly larger siblings, the E-175, total of fourteen were purchased since 2006 (SP-LIA, -LIB, -LIC, -LID, -LIE, -LIF, -LIG, -LIH, -LII, -LIL, -LIK, -LIM, -LIN, -LIO). SP-LIK is used by
EuroLot
, but with
LOT
's livery, and SP-LIG and -LIH are on a long term lease (together with crews) of the
Ministerstwo Obrony Narodowej
(
Ministry of National Defence
) as a government planes since the military VIP unit,
36 Specjalny Pułk Lotnictwa Transportowego
(
36th Special Transport Aviation Regiment
) was disbanded after the 2010 Smolensk air disaster.
Poland, EMBRAER E-175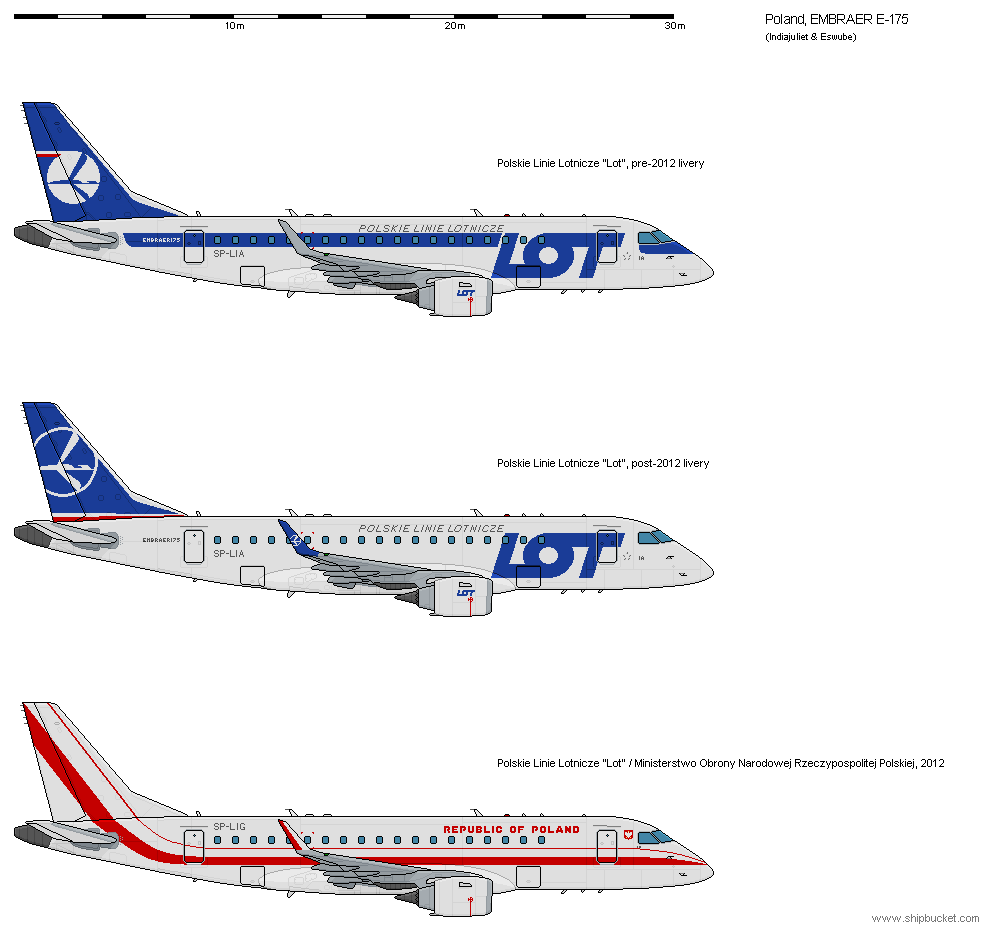 Largest EMBRAER's used by
LOT
are six E-195 delivered since 2011 (SP-LNA, -LNB, -LNC, -LND, -LNE, -LNF). Since the lease on most of
LOT
's B737's is nearing the end, E-195's are to be, in a way, their replacement. In addition to purchased E-Jets,
LOT
has options for 10 more (of any version).
Poland, EMBRAER E-195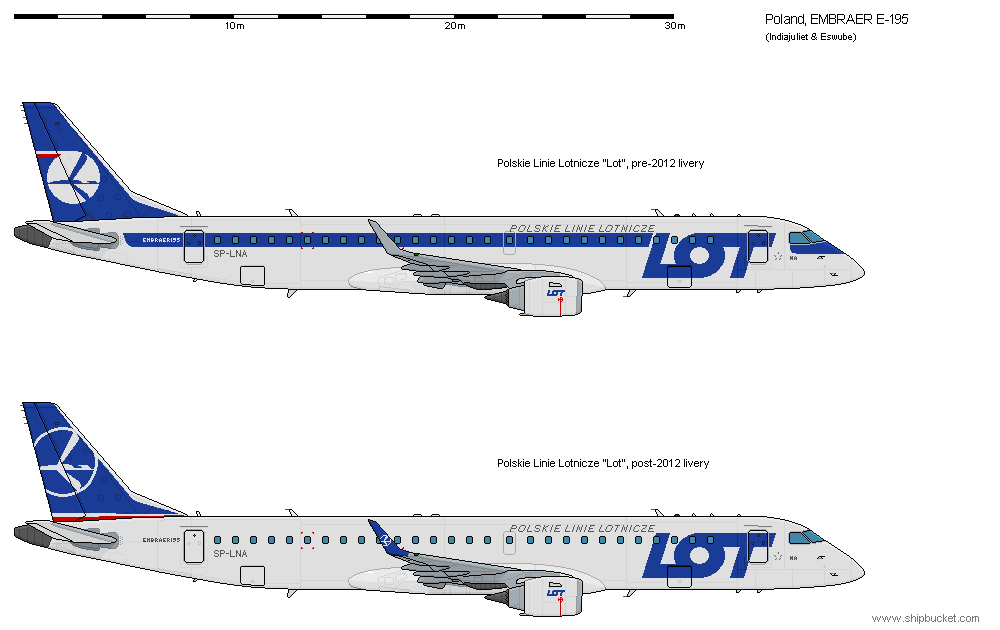 As a replacement for ATR's, the
EuroLOT
purchased in 2012 Bombardier Q-402 (formerly De Havilland Canada DHC-8/Dash-8-402). First two (SP-EQA, -EQB) were already delivered, six more are due to be delivered in the coming months (SP-EQC, -EQD, -EQE, -EQF, -EQG, -EQH).
Poland, De Havilland DHC-8 Dash-8

Newest type purchased by
LOT
is Boeing 787-8 Dreamliner aircraft. Total of eight 787-8 were ordered and delivered between November 2012 (SP-LRA) and July 2017 (SP-LRH), and four 787-9 were ordered and are due for delivery from March 2018. Their well-known technical problems appeared also in
LOT
's service (besides batteries, the undercarriage, door dehermetization and several others), and their dismal reliability in the first weeks led to creation of derisive nickname for them:
Dymlajner
("dym" is Polish for "smoke", and "jalner" is polonized form of "liner"). Emergency airworthiness directive of FAA, that grounded all B787's in USA stranded there on of
LOT
's planes too (as well as those awaiting delivery - total of 5 were to be delivered by march 2013 and remaining ones before early 2015), and the other one got grounded after similar directive by European Aviation Safety Agency.
Note: since B787 is still rather new plane, the number of detailed drawings is still somewhat limited, therefore I'm afraid that this drawing is bit "underdetailed".
Poland, Boeing 787-8 Dreamliner
Boeings 737 of the 'Classic' series purchased by
LOT
in the 1990s were modern planes when bought, but passing of time is merciless and eventually the time has come to seek their replacement. Since much of the
LOT
's fleets are Boeing's, it was decided to buy more current-generation 737's. As a stop-gap measure, 4 second-hand 737-89P (800NG-series) were obtained in 2017 (SP-LWA to -LWD) and delivered in May-June. As the intended replacement model the 737-MAX8 was chosen, with 6 ordered and options for 5 more. First two aircraft were delivered in December 2017 (registration numbers beginning with SP-LVA).
Additionaly, 3 B737's were purchased for the Air Force as the VIP aircraft. Initial plans called for 2 aircraft, but eventually it was decided to buy 1 B737-86X (for immediate delivery) and 2 B737-800BBJ2 (to be delivered in 2020). First aircraft arrived in Poland, in
1 Baza Lotnictwa Transportowego
at Warszawa-Okęcie on 15 November 2017 and was given individual name "Marszałek Józef Piłsudski" and special commemorative painting for the 100th Anniversary of the Polish Independence (1918-2018).
Poland, Boeing 737-800/MAX8
And as a bonus:
Although never serving in
LOT
, this airplane is nonethless an airliner - Czechoslovak Let L-410 Turbolet. Some of these planes were delivered to Poland since 1980s, majority of them ending in various small airlines (that won't be included in this thread, though), but several were obtained by state aviation. In 1986
Urząd Morski
in Gdynia (
Maritime Administration
) received one L-410 (SP-MBA) for fisheries and pollution control. In 1990s the plane received western avionics, incl. Ericsson side-looking radars (tubes located under the front part of fuselage - one on each side). In 1989
Przedsiębiorstwo Państwowe "Porty Lotnicze"
(
PPL, State Enterprise "Air Ports
- before 1987 it was
Zarząd Ruchu Lotniczego i Lotnisk Komunikacyjnych - ZRLiLK, Administration of Air Traffic and Communications Airfields
) purchased two of them (SP-TPA and -TPB) as a replacement of venerable Ilyushin Il-14 in calibration duties, operated by it's subordinate agency
Agencja Ruchu Lotniczego
(
ARL, Air Traffic Agency
) that was in charge of overseeing all civilian air traffic. In 2007
ARL
was removed from
PPL
's authority and reorganized into autonomous agency
Polska Agencja Żeglugi Powietrznej
(
PAŻP, Polish Agency of Aerial Navigation
- but for international purposes the other translation is used:
Polish Air Navigation Services Agency, PANSA
). Both SP-MBA, SP-TPA and SP-TPB are still in use.
Poland, Let L-410UVP-E Turbolet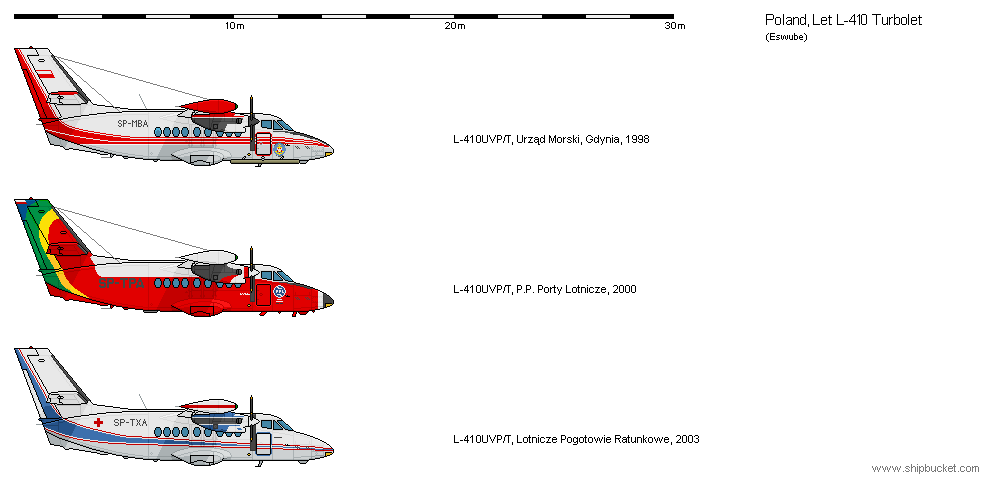 That ends the "airline" part of this thread. Initially we intended that next will be "pre-war military aviation" part (for which Rhade is our "project manager"
), but certain unexpected delays have occured, and as a stop-gap I have prepared the "pre-war sports planes" part, that will be presented during the next 2-3 weeks (followed by "military aviation"). Stay tuned.