Unfulfilled dreams - East German airliner designs
For a time being in the late 1950's East Germany attempted to build airliners itself. Basis for these plans was design bureau from the former Junkers factory in Dessau, that in 1945 was captured and transported (together with all factory equipment) to Soviet Union and forced to participate in Soviet aerospace research activities. One of the Junkers' design teams, headed by dr. Brunolf Baade created designs of the jet bombers that led to building of the "150" airplane (also called
Alekseyev 150
), first flown in 1952. In the 1955 German engineers were allowed to return to their homeland - namely to its eastern part, and begun work in
VEB Flugzeugwerke Dresden
(
Dresden Aircraft Works
-
VEB
stands for
Volkseigener Betrieb - Publicly Owned Operation
) which already produced Ilyushin 14 transport planes under license.
First flight of the new aircraft, named "152" took place on 4 december 1958, but already on 4 march 1959 it crashed, killing the entire crew. Flight testing were continued on the second flying prototype, that however had different undercarriage configuration - instead of the main gear in the centerline and outriggers in wingtips (similar to that used on B-47 or Harrier) it had conventional landing gear with front wheel and main gear housed together with engines, and was also slightly longer. Production of the 20 series aircraft was already underway when in 1961 East German government, due to Soviet pressure, cancelled all aircraft design activities.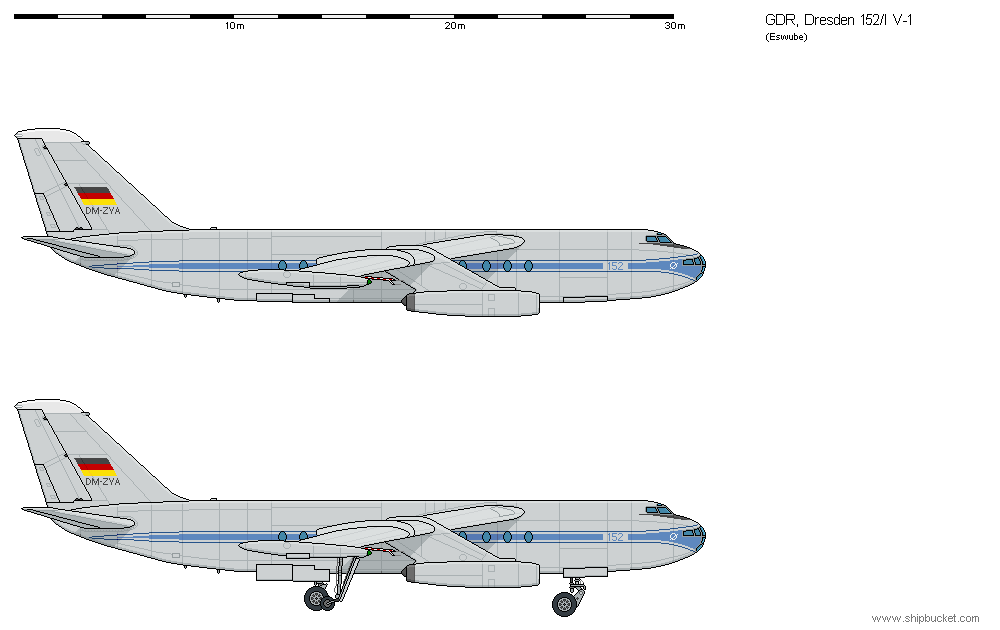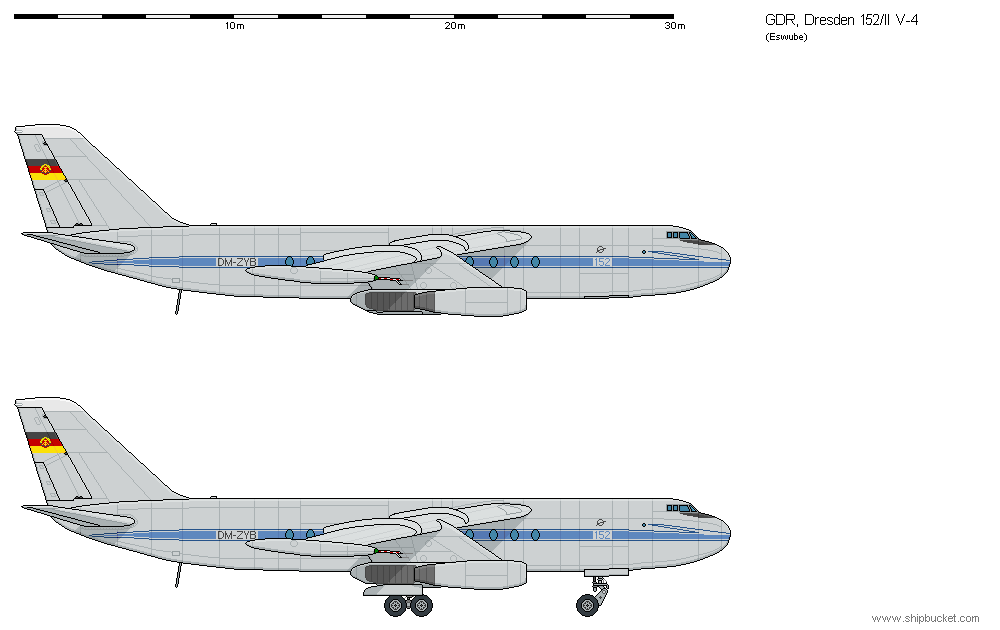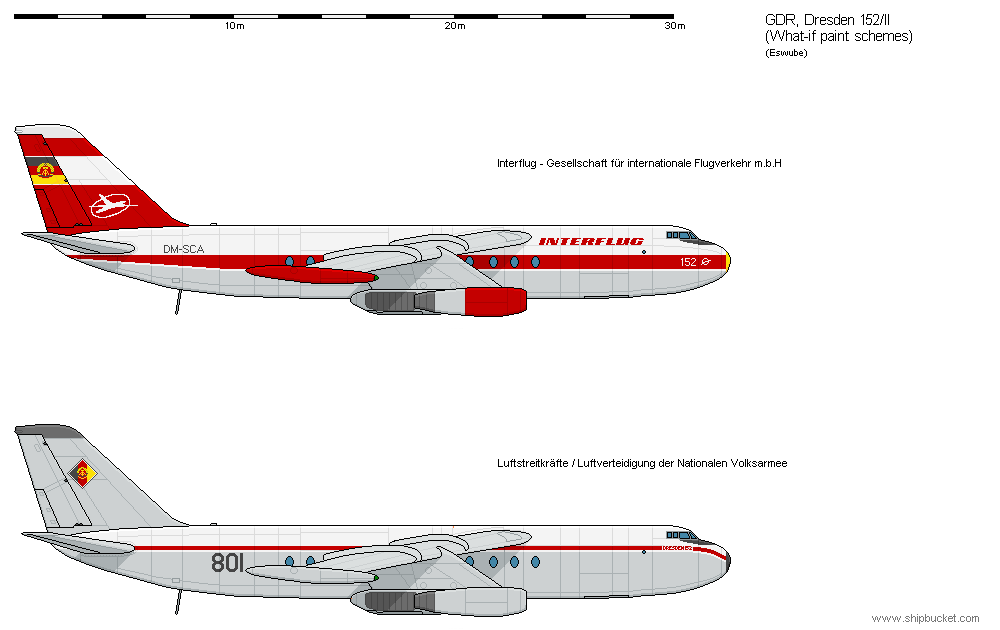 "152" wasn't the only airliner designed by the design team of the Dresden factory. Already in Soviet Union they begun preliminary works on several turboprop airliners of slightly different sizes and configurations (two- and four-engined), named "153", "154" and "155". These designs were further developed after the return of designers to GDR in 1955, but proceeded no further.



Shortly after work begun on more refined designs. First of them, "153A" of 1956 was twin engined turboprop, followed in 1959 by relatively small, but four-engined jet "154A" and in 1960 by small twin-jet "155A". They too didn't progress too far (although it seems that their full-scale mock-ups were built) due to cancellation of design work in 1961.



These weren't the only planes designed in that factory - among other projects were "160" - four engined passenger jet with engines located in two pairs on the lower part of fuselage (in front and behind wings), SP-022 small twin-jet with engines above wings (similar to VFW-614), twin-engined agricultural utility plane SP-043 Flora of 1960, as well as several small planes for use by aero-clubs as trainers, glider tugs etc.

VEB Flugzeugwerke Dresden
after ending of the Il-14 manufacturing and cancellation of "152" become maintenance centre for the East German and Soviet aviation, and after the reunification of Germany it was taken over by
Daimler-Chrysler Aerospace
(
DASA
) and after it's merger into
EADS
is now
EADS Elbe Flugzeugwerke GmbH
.
Main sources:
http://www.flugzeug-lorenz.de/index.php?id=45
http://www.secretprojects.co.uk/forum/i ... 0/all.html
General note: various (internet) sources differed significantly regarding the quantity of airplanes operated by the East German airlines, therefore I decided to follow the source that was giving most details - if it was wrong - then I'm sorry.
Note on registration markings: initially German Democratic Republic was using DDR- registrations, in 1956 they were changed to DM- and in 1981 again to DDR-.
THE END
(although there may be some postscripts
)
And btw. Folks -
Polish Wings
thread is still going on, currently under leadership of Rhade who's working hard with it, so please, add Your comments there too - they will be greatly appreciated!
http://www.shipbucket.com/forums/viewto ... 819#p91819