It is a good practice to compare images drawn to photographs: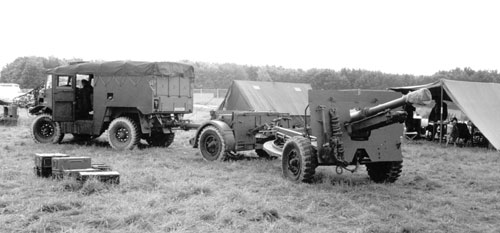 If it matters to anyone, it is hard to discover Turkish camouflage colors of 1930s on the media. We don't have any peacetime paintings (The only exception to this is that of Praga T-9 linked by me). Photographs are black-and-white. And to make things worse, a printing technique called dithering was used.
However, from some clear b/w photos, we know that the army had imitated a French pattern that involves colors like desert khaki, maroon (or brown), green and (perhaps) light blue. So there should be at least three distinct tones if we ignore the last one. However, if one looks at the scans of the dithered printed material, he or she only sees one light color (possibly the desert khaki) and one dark color (possibly green and maroon together). Only in a couple of images, those dark areas were separated into two by slightly changing the tone. In the end, on the latter images, you end up with three tones of grey in total instead of two. When you watch rare b/w movies that show these vehicles and capture stills, you come across the same problem.
Three possibilities emerge:
1) Some vehicles had been painted by using only two colors, and some with three.
2) Most original images were of low quality, but a few were not that bad.
3) The people who converted some original photos into dithered ones did a lousy job.
Example: Both t-26s and t-27s were delivered in the early 1930s. Initially, t-26s had to be in Soviet green: photographs exist to show that t-26s were taken out of the cases right after their arrival. However, images taken on October 29th, 1933, the 10th Anniversary of the republic of Turkey, show that while the t-26 tank were in two tones, the t-27 tankette had been painted in three. In the late 1930s, you see two photographs of t-26s: in one, there is a two-color toning whereas in the second, there are three. The same argument applies to BA-6 as well.
I came across a couple of models of Turkish t-26 and ba-6, depicting them in two-color schemes that were not consistent with each other either.
In the end, though may still remain inconclusive, I prefer to compare drawings and blueprints to photos and movies. It brings me closer to the truth.