I have designed these for my army in my Dutch AU. As it will probably be a while before I'll resume it, I thought
it would be nice to upload them here and maybe get some comments about them.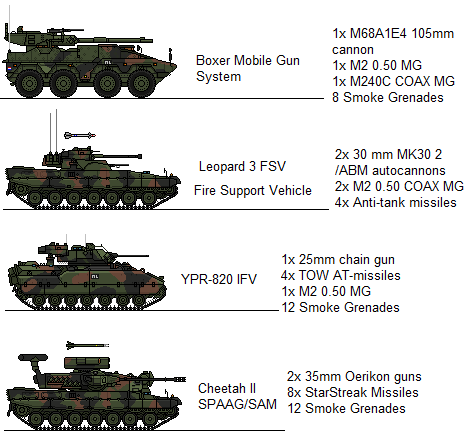 The most upper one resembles the Stryker Mobile Gun System, but fitted on a BOXER
The second one is based on the Russian BMPT Tank Support Combat Vehicle (
http://www.army-technology.com/projects/bmpt-vehicle/
)
The third one is an evolved M2 Bradley/YPR-765 universal carrier, here seen in AIFV-role
And the last one was to be a replacement/addition to the Gepard SPAAG, fitted on a Leopard-2 hull with British StarStreak missiles.