I am particularly fond of the British Type22, for all its vices and drawbacks and what-not the critics have labelled it with. Especially the stretched Batch 2 and 3 are my favorites. Now, I found a long time ago the types represented on SB, and I was glad. However, I soon found out that those renditions were, let's say insufficient, and, moreover, they did not have the correct dimensions.
Thus I started out modifying them, but that didn't help, so I sat down and re-scaled it and finally embarked on actually redrawing them altogether; it was, it transpired, the easiest way out of the conundrum of wrong dimensions, erronenous detailing etc. A while ago, on the old forum, the remade Batch 3 was posted. I've been keeping mine on the computer for quite some time, but since no one is interested in redrawing these fine ships, and, furthermore, no one has bothered to do a full-hull version and port and starbord, I decided that it's time to post my effort. I've chosen the HMS Sheffield (F96), the last of the B2s in Royal Navy service.
Although the Coventry (F98) and London (F95 were sold to Romania between 2005-06, and the Sheffield was sold to the Chilean navy in 2002, the two former ones were decommissioned in 1999 already and laid up. The Sheffield sailed almost straight from decommissioning in the RN to the South Atlantic as the Chilean Almirante Williams. I shall also do her in a short while, as I will do both the Coventry and London and their Romanian alter egos.
If my effort is accepted and even appreciated, i have a redrawn version of the B1 in store, with Brazilian versions as well.
Enough rambling! Here's the HMS Sheffield as she looked liked shortly before leaving RN service: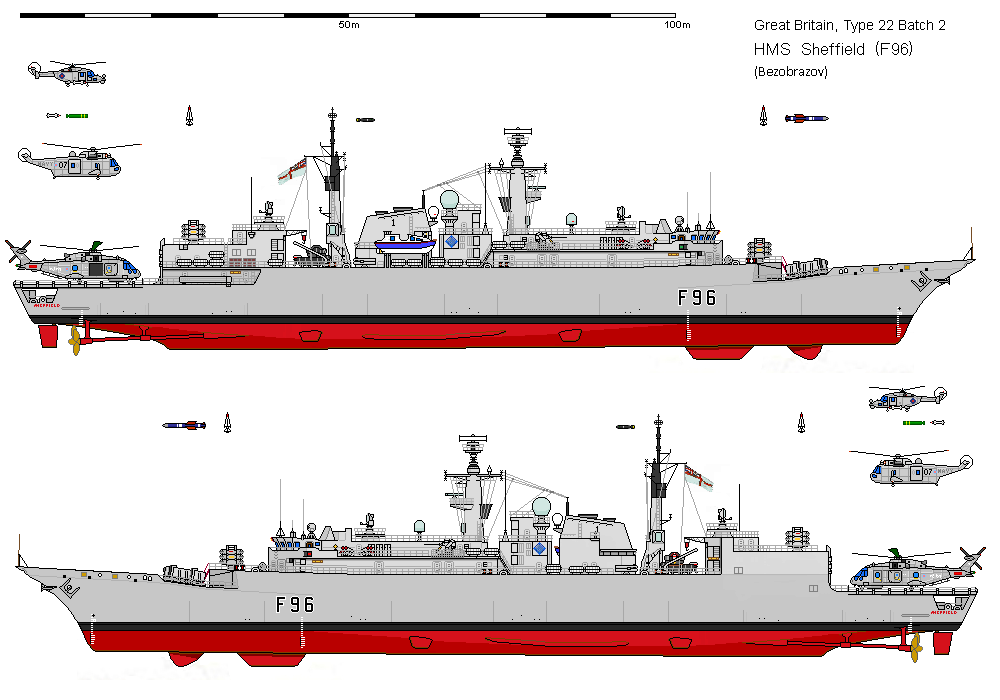 _________________
My Avatar:Петр Алексеевич Безобразов
(Petr Alekseevich Bezobrazov)
, Вице-адмирал , царская ВМФ России(1845-1906) - I sign my drawings as
Ari Saarinen