Since the community received my update of the German
Lütjens
-class DDGs so positively, and quite a few seemed to be very delighted with the amount of detail that I tried to add to an already excellent base drawing, I hope my next small project will met the same kind of approval.
If I began in the Northern Hemisphere, in Germany, we now turn all the way, across the Equator, down to the Antipodes, that is the Australasian continent. About the same time that the Bundesmarine received its three
Charles F. Adams'
class guided missile destroyers, the Aussies also got their triplets, the
Perth (DDG-38), Hobart (DDG-39)
and
Brisbane (DDG-41).
These were more closely aligned with the USN:s existing CFAs, except that they shipped the domestically developed and produced Ikara A/S rocket amidships. The bulkiness of this complex weapons system required erection of an additional deckhouse between the funnels, giving the Sheilas a very distinctive look, clearly separating them from their US or German cousins. However, by the late 1980s it had become apparent that the Ikara was obsolete, so, by 1991 all three ships had them removed. One curious oddity of the three sisters was that they shared the Phalanx system. In fact, the Australian Government could afford to purchase only one complete system for the ships, so it was sisterly shared -
Brisbane
, being the last in commission, also being the last to ship it!
Here's my pretty 'Sheila' the
H.M.A.S. Brisbane
or
'Fighting Forty-One'
or the
'Steel Cat'
as she appeared during her last few years' of commissioning, before being scuttled, in 2005 off the coast of Queensland as an artificial reef.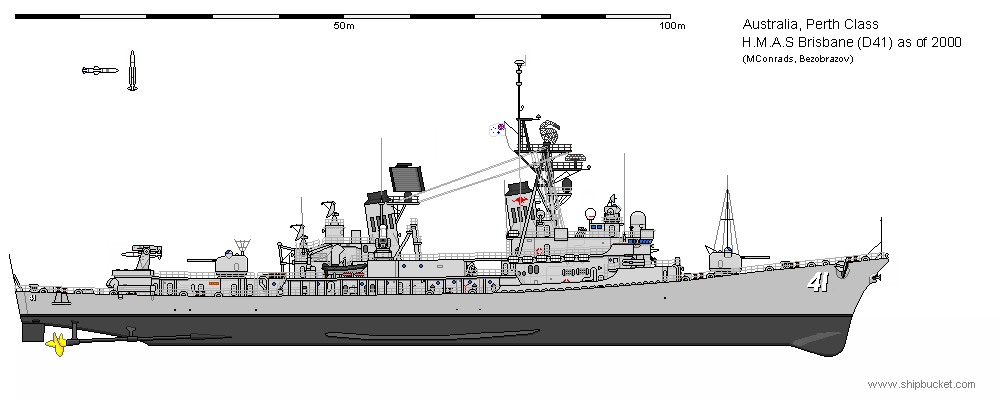 _________________
My Avatar:Петр Алексеевич Безобразов
(Petr Alekseevich Bezobrazov)
, Вице-адмирал , царская ВМФ России(1845-1906) - I sign my drawings as
Ari Saarinen